Digital Workspaces empower employees with the tools they need to
be more productive and work smarter.
FWP Global work with Citrix to provide a leading digital workspace platform that creates space to innovate by simplifying the end-user experience and providing IT departments with centralised management features to quickly scale environments while maintaining visibility and security into the complete environment.
Current trends indicate that workplaces will take on a different form in the future and businesses need a modern infrastructure that maximises efficiency and reduces costs. Employees won't be tied to dedicated office locations anymore, but they still need to be as productive at home, or in the local coffee shop, as they would be in the office.
Our solution provides employees a tailored view of apps and tasks that removes distractions and helps them work more intelligently wherever they are.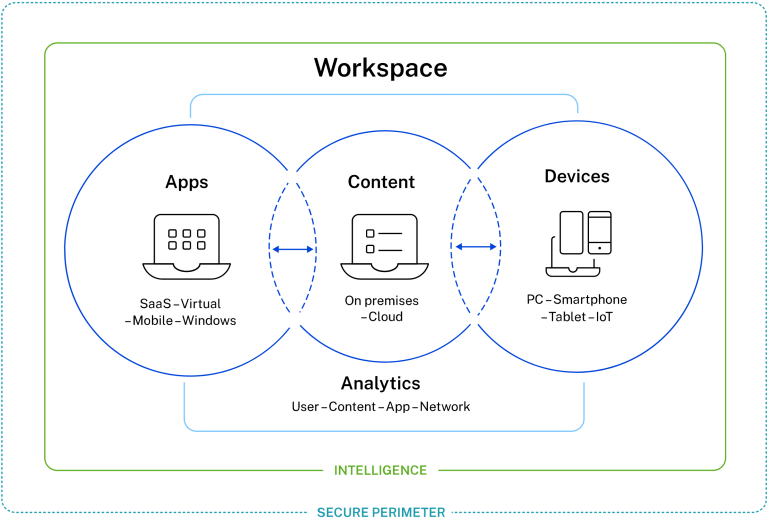 Deliver Productivity to a Hybrid Workforce
We deliver a secure, scalable digital workspace that enables IT to deliver access to apps, data and desktops from any location and any device. We empower employees with a smarter, simpler and more flexible way to engage with IT increases productivity while proactively defending the integrity of the security infrastructure.
Provide a Seamless Employee Experience
Our solutions enhance collaboration between remote workers by allowing them to retain access to corporate apps, data and as they transition between devices and locations.  This allows you to reimagine where and how work gets done – without compromising security.
Digital workspaces offer a more secure alternative for protecting corporate assets than legacy VPNs.  Based on a Zero-Trust
security model, no matter where work occurs you know your users, apps and data stay safe and secure.  Identity management is built-in to the platform for improved efficiency, while advanced behaviour analytics ease the burden on your IT department.
The Benefits of Digital Workspaces
FWP Global helps businesses to facilitate a productive, secure and engaging digital workspace for employees where they decide to work.  Zero-Trust Architecture helps to secure the workspaces and, coupled with a built-in identity management solution, improve efficiency and ease the burden on your IT department.   
With Digital Workspaces provided by FWP Global you'll receive:
Secure, scalable workspaces that promote productivity.
A Zero-Trust Security model that secures workers no matter their location.

 

Out-of-the-Box Integrations with a suite of apps like ServiceNow, Dynamics 365, SAP and more.

 

Increased visibility and control for the IT Department reducing business risk.
Find out more today by speaking to one of the team.